Speed up your business
IT IS Software Partner program - Maximum benefit - zero cost
Become a IT IS Software Partner

"Time is money" is a statement from former US President Benjamin Franklin in 1748.
This phrase has become increasingly important over the decades and is a key-factor of success today.
IT IS AG creates time-saving and innovative solutions with great benefit and easy handling.

We develop our solutions to give the users better performance and new functionalities.
Get our Odoo-Apps and solutions ready for installation.

If you are a business mainly focused on implementation of business software for other clients, we offer you
our partnership for direct sales of our Odoo-Apps with a number of advantages:
Free product training and certification

Access to our IT IS Software Partner Portal where you can find the latest Apps

Unlimited and free software use in your own Odoo

Profitable sales commission

No costs for the partnership and sales activity will be billed by IT IS AG

Benefit from our innovations and be part of our team! We can win together.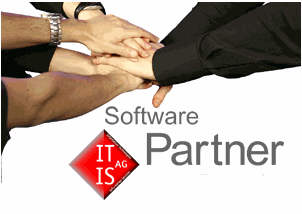 Because you can only win
You can use your time to effectively increase sales profitably with minimum effort. Focus on your business and raise your functional footprint and sales volume by providing more benefit to your customer solutions with Odoo-Apps from IT IS AG.

Use the possibility to win new customers or generate additional income with your existing clients by providing useful enhancements for Odoo with our Apps. Advertising material, handouts, webcasts and workshops are available to bring all the information and advantages to you and your customer. You will be pleased how our solutions help to simplify the daily work.
Team up with us and you will increase your range of products and gain more business. You will receive a kick-back for each App from IT IS you are going to sell. The partner agreement is dealing with he commissions, benefits and duties and serves as the basis of our successful partnership.

Talk to us and find out about your specific advantages! We look forward to our mutual success!

Time is money! - Hurry up and speed up